Christmas has come early for retailers with Australians preparing to spend
$11b on Christmas gifts
, with a staggering 80% expected to purchase before December. 
Despite Black Friday still being more than a month away, the annual event is marked firmly in the calendar of savvy shoppers who are increasingly using this day — and the period leading up to it — for researching and purchasing Christmas shopping and big-ticket items.
With the 2021 holiday sales period shaping up to be the biggest to date, here are three reasons why now is a critical window to cut through the noise and win over customers ahead of the main event. 
The early bird catches the worm
Data from Google reveals that a resounding 88% of Aussies believe that this Christmas will be more important than last year; with 21% of people preparing gifting plans 3-6 months before, and 47% of people in the 2-4 weeks leading up to December. 
We're also seeing an interesting change in consumer behaviour in the lead-up to Black Friday, with consumers actively choosing to hold back on purchases in anticipation of massive discounts and limited-time offers. 
In fact, Sparro research data reveals that about 60% of people will wait up to 30 days before Black Friday to buy high research, big-ticket items such as consumer electronics or appliances, in order to snag a saving.
When timing and statistics align
It is this behavioural shift paired with insights about the weeks leading up to Black Friday that presents an opportunity for retailers. As we edge closer to the holiday sales period, it's clear there's no better opportunity than now for retailers to drive more traffic to their site, especially as store closures have pushed more shoppers online.
This is also true from a cost perspective, with our conversion lag data indicating the first two weeks of October are the best time to market to customers at a more cost-effective rate. Conversion lag refers to the delay when users click an ad and when they perform a particular conversion action, such as purchasing an item. 
Sparro data from Black Friday 2020 found that in the five weeks leading up to the sale weekend, only 55% of customers made a purchase within 24 hours of accessing a website. This dip compares to off-peak seasonal months, such as August, where about 60% of customers made a purchase. 
However, as sales commence, 70% of Black Friday customers made their purchase within 24 hours of accessing retailer sites. This confirms both that shoppers are using the lead-in to Black Friday to research and plan purchases, but also that the attribution and consideration window is far shorter during the campaign.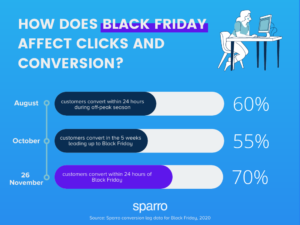 Supply chain issues
Faltered by restrictions throughout the pandemic, an ongoing strain on Australia's delivery network may result in shortages of toys, electronics, furniture and food. As a result, many Australians are encouraged to start their Christmas shopping early to avoid disappointment, with retailers having the opportunity to meet this demand by commencing Black Friday campaigns early.
While many are already researching Black Friday deals for their Christmas shopping, fears around delivery delays will likely see this number increase, with more demand for 'early' sales deals than previous years.
So, how can you make the most of an early start?
Prep your websites: Ensure you have an easy to find landing page dedicated to your sales event. You may also want to consider page takeovers and design changes to highlight differences to recurring visitors to your site. 
Create anticipation for your event: Countdown clocks, access to early sign-ups and save for later options are great ways to create anticipation for the main event. Take your marketing a step further and undertake outreach to ensure you're included in third-party sales round-ups and seasonal gift guides. 
Build page authority: Once Black Friday has come and gone, don't delete your campaign page! Instead, archive your page to use for future sale events, and build value and page authority over time. 
Win customers early with paid ads: Use your paid campaigns to cut through the noise and capture potential customers in their research phase. Not only will it drive a great campaign, but it will also capture the attention of customers early and yield a lower cost-per-click. Ensure search campaigns feature specific and detailed queries such as "Black Friday sales on PC Laptops", to increase the likelihood of clicks.
Get creative: Invest time in various marketing channels and create content that influences customer buying consideration. Help these customers navigate a crowded market by informing their research with select information on trends, seasonal products, educational pieces, new products and best-sellers. As Black Friday approaches, raise the stakes and provide sneak peeks about deals, reveal promo codes and have discounts at the ready to hype buyers for your sale.
October has arrived, so we'll be popping on our creative caps and fine-tuning our marketing strategies for our retail clients. What's your plan?