In the lead up to Q4 2021, there was plenty of talk about how this popular sales period was shaping up to be the biggest we've seen to date. But what actually ended up happening in Q4 2021? 
As an agency in the top 3% of all Australian Google ad spenders, we have access to a wealth of data from this period. We managed more than $41m in advertising spend across 31 retail clients in Q4 2021 alone. Read on to discover some of the key takeaways we've learned from Black Friday, Boxing Day and Q4 consumer behaviour.
Consumer spend is increasing
Q4 is an important period for many businesses, especially those operating in the retail space. Between October and December, we saw some significant year-on-year revenue growth across several key retail categories, including electronics (+44%), apparel (+43%), beauty (+28%), and home and garden (+24%).
While this isn't a major shock considering the continued popularity of these categories, the potential for future growth and optimisation will remain of interest as we round out Q1 and gear up for the remainder of 2022.
Boxing Day is far from the be-all and end-all of Q4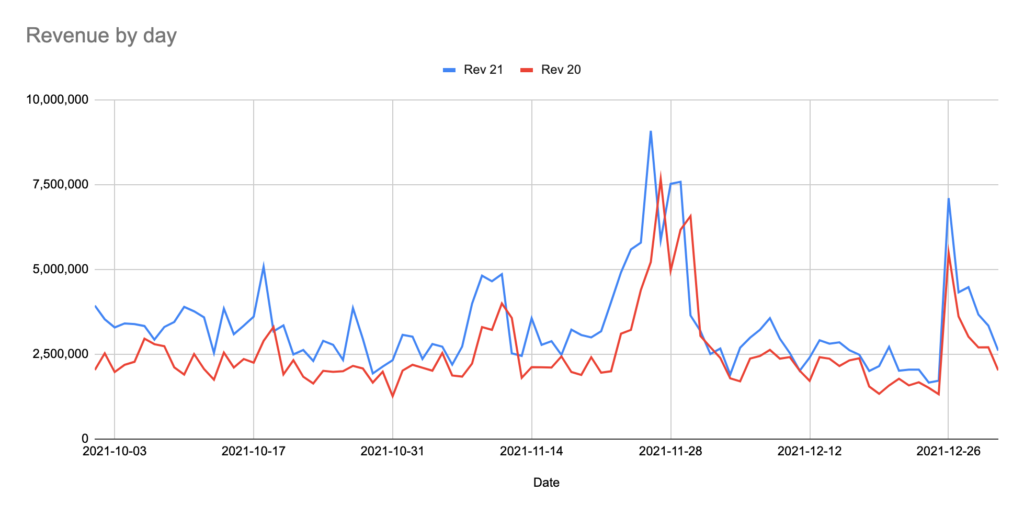 The biggest days for revenue in Q4 were close to identical to those recorded in 2020. However, we did see Cyber Saturday enter the top five for the first time, taking the position previously held by the day before Black Friday. Much like previous years, Boxing Day continued its fall from grace, with Black Friday, Cyber Monday and the Cyber Weekend sales spurring on consumer spending earlier in the quarter. From our data, the top days for revenue in Q4 were:
Black Friday

Cyber Monday

Cyber Sunday

Boxing Day

Cyber Saturday
Not only does our data support the continued rise of the Black Friday and Cyber Monday retail events, but it also supports a slight shift towards earlier consumer spend, with revenue up +45% year-on-year for October. In comparison, November and December were only up +28% and +26%, respectively. October's total revenue share for Q4 also experienced growth, with the first month of the quarter now accounting for 32% of revenue, up from 29% in 2020.
Retailers are paying more to play
As more retailers shift their attention from Boxing Day to sales events occurring earlier in Q4, it's not surprising that average Facebook CPMs and Google CPCs continued to increase around key shopping periods. With retailers battling it out for prime digital real estate, we saw a significant increase in Facebook CPMs during Click Frenzy week (up to $8.61) and again during the Black Friday Cyber Monday (BFCM) period (up to $13.66). Google CPCs also spiked in mid-October (up to $0.74) and throughout the BFCM period (up to $0.96), with an overall increase of +18% compared to Q4 2020.
We're continuing to kick goals in Q4
Overall, we saw our client revenue increase in Q4 2021 by an incredible +32% year-on-year. October saw the most significant year-on-year growth, up a whopping +45% on Q4 2020, while November and December also saw some solid year-on-year results, up +29% and +24%, respectively.
Across Facebook and Google, our total managed retail spend in Q4 came in at $41 million, up +37% on the same period in 2020. Of this total spend, we saw our domestic spend grow +33%, while our total international spend also grew in Q4, up +117% on the same period in 2020.
Four marketing takeaways for your 2022 campaigns
Start building up audiences before Q4 even starts. Think lead generation, video campaigns, etc.

Run an October promotion to leverage early and organised shoppers, and nab sales before everyone is flooding the market.

Black Friday is THE biggest sales date of the year. Organise your campaign early and give it the time, creativity and energy it deserves.

Boxing Day is another huge sales day, but it can be worthwhile to prioritise spend and resource to Black Friday to maximise this sales period.
How is your digital marketing going? If you want to learn more about starting early for Black Friday sales or making the most of this year's sales events, head over to our contact us page.